Charitable Giving App : The Best Charity Apps that Make Giving Easy and Fun | Gadget2Reviews.Com – There was a time when giving to charity took a lot of effort. You had to cut a check, find a mailbox or go to a post office, and send your contribution with a fervent hope that it wouldn't get lost on its way to its final destination.
These days, however, giving can be as simple as tapping a button on your mobile phone. To get you started on your charitable journey, we picked the best charity apps that make giving fun and easy.
Best Charity App for Donating Blood – Charitable Giving App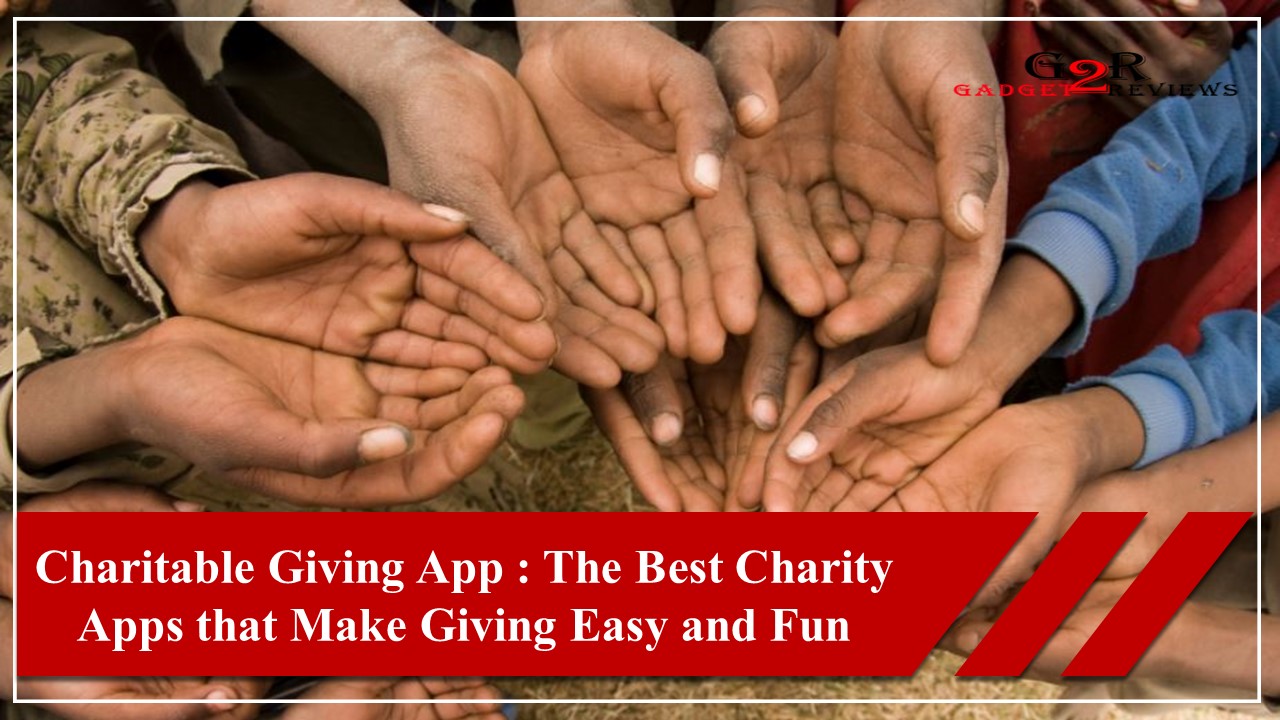 Blood Donor
Created by the American Red Cross, the Blood Donor app is all you need for keeping track of your donation schedule and appointments, local blood drives, and donation centers. You can also join a team and track your cumulative impact on a national leaderboard.
And, most importantly, the app comes with a geo-targeted shortage alert, which lets you know if your blood type is needed in your area.
Charity Apps that Let You Help with Chump Change
Helping doesn't mean shelling out hundreds of dollars at once. Every little bit counts, even if that "little bit" amounts to only $1 at a time.
One Today
This Google-made app is one of the best charity apps that you can download. One Today showcases how $1 can make a huge impact.
One Today supports US-based nonprofit organizations validated by the IRS and Google. They do not take a cut from your donations, so you know 100% of what you give goes to the charity of your choice. Your donations are tax-deductible, and you will be given a year-end tax receipt for every donation you give.
Coin Up
This charity app rounds up your credit and debit card transactions and donates your spare change to your chosen charity. With this app, the change that you would have forgotten about will be put to good use. Your nickels and dimes can be donated to one of 250 charities on Coin Up.
Coin Up lets you set a monthly goal or limit. You also have the choice to make a one-time donation or a fixed monthly donation. At the end of each month, the app will give you a report about where your donations went. You get a tax donation receipt at the end of each year as well.
ShareTheMeal
ShareTheMeal is a charity app created by the World Food Programme. It's one of the few charity apps that aims to address world hunger. With the tap of a button, you can donate a minimum of 50 cents, which is the amount needed to feed a child for one day.
For transparency, you can also view where your donation goes and who you're helping.
Charity Apps that Let You Help and Stay Healthy
Want to help yourself AND the world at the same time? If this sounds like a good idea, what you need is a walk-for-charity app. Whether you find working out a chore or the best part of your day, you will be glad to know that your physical efforts can have a positive impact on others.
Charity Miles
Charity Miles is a running, cycling, and walking tracker that makes every workout session count. With every step you log on the Charity Miles app, you help raise money for one of the 40 unique charities connected with the app.
Using Charity Miles is simple. You just have to pick a charity and launch the app before your walk or run. The app will track your activity, and sponsors will donate money based on the distance you cover. Now you can enjoy a runner's high and a helper's high at the same time!
WoofTrax Walk for a Dog
Another great app that lets you help others while you work on your health is Walk for a Dog by WoofTrax. Using this app, the simple act of walking your dog turns altruistic. The more you and your fur friend walk, the more donations you make to local animal organizations or the shelter of your choice.
For those who walk dogs for a living or for a side hustle, this app is a must-download.
Charity Apps That Make Giving Fun
Donating to charity might not seem like the most enjoyable activity, but the following apps can make the act of giving a little more fun.
Donate a Photo
What's one thing that you use your mobile phone for every day? If you answered "take a photo," you can make use of this daily activity for good. Donate a Photo is a Johnson & Johnson app that turns your photo donations into charitable acts.
With every photo you post, Johnson & Johnson donates $1 to the charity of your choice. You can donate one photo a day.
Freerice
Freerice is another topnotch charity app from the World Food Programme. Unlike ShareTheMeal, however, you don't shell out money straight from your pockets. In fact, you only have to play trivia games on the app, and sponsors will take care of the donations. In other words, not only will you be able to help with this app, you'll learn something too!
Making an impact is now easy and fun with charity apps. The best part? Not all charity apps require you to give money at all. With certain apps, you only need to do the things you do every day, such as walking your dog or playing trivia games.
While you're on a self-improvement streak, check out our list of the best apps for learning a new language.
Originally posted 2021-08-10 15:00:12.